Proper 21A/Ordinary 26A/Pentecost +17
September 27, 2020
With thanks to page sponsor 2017:
The Rev. Andrew Green,
St. Paul in the Desert, Palm Springs, CA.
Please help support The Text This Week!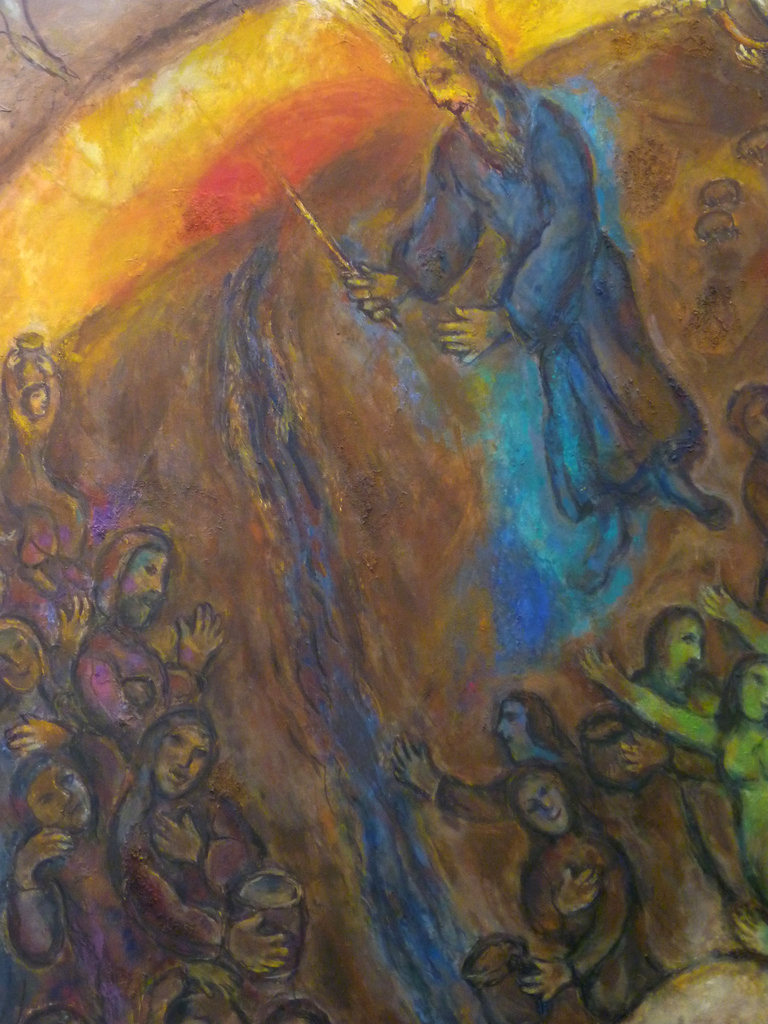 Image: Moses Striking the Rock, Marc Chagall,
from Art in the Christian Tradition,
a project of the Vanderbilt Divinity Library, Nashville, TN.
Click on Scripture Lessons below for
study links and resources for each individual pericope:
Exodus 17:1-7 or Ezekiel 18:1-4, 25-32
Roman Catholic reading: Ezekiel 18:25-28
United Methodist & ELCIC reading: Exodus 17:1-7
Psalm 78:1-4, 12-16 or Psalm 25:1-9
Roman Catholic reading: Psalm 25:9-14
United Methodist & ELCIC reading: Psalm 78:1-4, 12-16
Philippians 2:1-13
Roman Catholic reading: Philippians 2:1-11 or Philippians 2:1-5
Matthew 21:23-32
Roman Catholic reading: Matthew 21:28-32
The Text This Week's Pentecost Resources Page contains resources and images.
Complete Liturgies and General Worship Planning Resources:

Worship Planning Helps (Pentecost +16): Worship & Preaching Notes, Hymn Suggestions and Worship Resources from the United Methodist Church General Board of Discipleship.
Gathering, from the United Church of Canada. Includes sermon seeds, liturgical ideas, "with children," hymn suggestions, choral suggestions etc, 2014. .rtf file at this link. (Terms of Use)
Life in Liturgy, 2017.
Sacredise, 2017.
Mustard Seeds, "The God Who Comes to Us / Attitude," Proper 21, 2017. A lectionary-based ideas resource for leaders of contemporary worship, Ann Scull, Gippsland, Australia.
Worship resources for Proper 21 by Amy C. Schifrin from SermonSuite.
LCA Worship Planning Page, 2014. "Everything lay-readers need to prepare worship."
Ministry Matters, September 28, 2014.
"Stewardhip is a Self-Less Thing," Sharron Blezard, Stewardship of Life, 2014.
Worship Resources, Rev Mindi, Rev-o-lution.
Liturgy for the Celebration of Life, Pentecost 15A/Creation 4. Liturgies from a Progressive/Post-Liberal Theology, Revd Rex A.E. Hunt, The Uniting Church of St James Curtin, ACT, 2011.
Lectionary Liturgies, Ordinary 26, Thom M. Shuman, Presbyterian Church (U.S.A.), 2014.
Worship and Liturgy Resources, Ordinary 26, by Rev David Beswick, Uniting Church in Australia.
Sermons and Liturgies for Year A, Richard J. Fairchild, United Church of Canada.

Prayers, Prefaces, Litanies, etc:
Graphics & Multimedia:
Hymns and Music:

Original Hymns, Settings, and Songs:
Psalm Settings:

"Stay True to God," (Psalm 78), "Show Me Your Ways, O Lord," (Psalm 25) lyrics, midi, sheet music, mp3. Stephen J. Pearson, The Psalmistry. See Terms of Use.
Psalm Settings by Dale A. Schoening, Metrical Psalms: Psalm 78:1-4, 12-16 set to Mendelssohn (77 77 77 77 77), Psalm 25:1-9 set to Martyrdom (CM 86 86).

Hymn/Song/Choral Piece Lists:

Children's Bulletins (see also listings at individual scripture pages, linked in listings at top of page)
With Children (see also listings at individual scripture pages, linked in listings at top of page)
Drama (see listings at individual scripture pages, linked in listings at top of page)

Mustard Seeds, "The God Who Comes to Us / Attitude," Proper 21, 2017. A lectionary-based ideas resource for leaders of contemporary worship, Ann Scull, Gippsland, Australia.

A list of links to other lectionary-based preaching and worship resources.