Lent 4A
March 30, 2014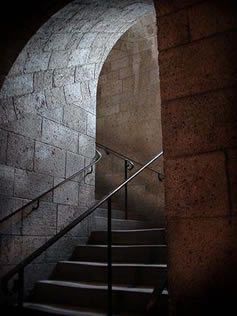 With thanks to page sponsor 2014:
Rauschenbusch Metro Ministries, New York, NY.
Image: RMC Morley: a garden path
Click on Scripture
1 Samuel 16:1-13
Roman Catholic reading: 1 Samuel 16:1, 6-7, 10-13
Psalm 23
Roman Catholic reading: Psalm 23:1-6
John 9:1-41
Roman Catholic reading: John 9:1-41 or John 9:1, 6-9, 13-17, 34-38
Texts:
Images and Movies:

Images listed at The Text This Week's Art Concordance:
Movie Scenes with the following themes:

Special Day Resources (Mothering Sunday):
Commentary, Exegesis & Sermon Preparation (see also listings at individual scripture pages, linked in listings at top of page):
Recommended articles from ATLAS, an online collection of religion and theology journals, are linked below. ATLAS Access options are available for academic institutions, alumni of selected theological schools, and clergy/church offices. Annotated list of "starting place" articles at ATLAS for this week's texts (includes direct links).
Lectionary Reflections, Discussions & Weblogs:
Sermons (see also listings at individual scripture pages, linked in listings at top of page)

Ministry Matters, March 30, 2014.
Göttinger Predigten im Internet: Every Sunday Sermons based on the RCL by a team of Lutheran theologians/ pastors, 2014.
"Blindness of the Heart," the Rev.Dr.Wiley Stephens, Day 1, 2011.
"There Was a Man Born Blind," the Very Rev. Samuel G. Candler, Day 1, 2008.
"Seeing Again for the Very First Time,"

John Jewell, 2002.

"Spiritual Spectacles," the Rev. Karl Travis, Day 1, 2002.

Group Studies & Discussion/Reflection Questions:

Proclaiming Faith, discussion, prayer, activities for primary grades, activities, 2014.
"Untamed Hospitality," study guide, Robert B. Kruschwitz, (other resources at) "Hospitality," Christian Reflection, The Center for Christian Ethics at Baylor University, 2007.
"Discipleship: An Instrument of Joy and Consolation," John and Robin McCullough-Bade, Daily
Light on the Lessons, Lutheran Bible Ministries. .doc file leaders guide and participant guide for group study of the weekly lectionary readings.

A list of links to on-line Bibles and general Bible study resources.
A list of links to scholarly and preaching discussion groups and their homepages.
A list of links to other lectionary-based preaching and worship resources.
Resources and Images on The Text This Week's Lenten Resources page.
Complete Liturgies and General Worship Planning Resources:

Lectionary Liturgies, Lent 4A, Thom M. Shuman, Presbyterian Church (U.S.A.), 2011.
Liturgy for the Celebration of Life, Lent 4A, 2011. Liturgies from a Progressive/Post-Liberal Theology, Revd Rex A.E. Hunt, Uniting Church in Australia.
Worship and Liturgy Resources, Lent 4, by Rev David Beswick, Uniting Church in Australia.
Lent Liturgy / Lenten Preparation Liturgy (catechumenate / RCIA style), Rev. Bosco Peters, New Zealand. Adapting Lent to the Southern Hemisphere.
Sermons and Liturgies for Year A, Richard J. Fairchild, United Church of Canada

Prayers, Prefaces, Litanies, etc:
Graphics & Multimedia:
Bulletin Inserts (see also Children's Bulletins, below):
Hymns and Music:

Original Hymns, Settings, and Songs:
Psalm Settings:
Hymn/Song/Choral Piece Lists:

Children's Bulletins (see also listings at individual scripture pages, linked in listings at top of page)

CatholicMom.com: Coloring Page, Mass Worksheet, Crossword Puzzle, and Word Search based on weekly gospel text.
Coloring Pages/Puzzles. Charles Kirkpatrick, Object Lessons & Children's Sermons, Coloring Pages, Puzzles. Sermons4Kids.com. (Scroll to bottom of page.)
Lectionary Puzzles, Lent 4. Word search puzzles in RTF or plain text, by Reg McMillan, St.Stephen's Presbyterian Church, Peterborough, Ontario.
Gospel Puzzles for the Lectionary, Lent 4A, Mark Ryman, edoxy.com.

With Children (see also listings at individual scripture pages, linked in listings at top of page)

Gathering, from the United Church of Canada. Includes sermon seeds, liturgical ideas, "with children," hymn suggestions, choral suggestions etc, 2014. .rtf file at this link. (Terms of Use)
Proclaiming Faith, discussion, prayer, activities for primary grades, activities, 2014.
Worshiping with Children, Lent 4A, Including children in the congregation's worship, using the Revised Common Lectionary, Carolyn C. Brown, 2011.
"Protective Eye Wear," video, John Stevens, Dollar Store Children's Sermons, 2014.
Ministry Matters, March 30, 2014.
"Sermon of the Week," / "Mensajes para ninos," Sermons 4 Kids, Charles Kirkpatrick, Object Lessons & Children's Sermons, Coloring Pages, Puzzles. Sermons4Kids.com.
What You See, Anna Shirey, Anna's Hosannas, Children's Lesson for Lent 4A, 2011.
Story for Children's Worship and Family Activity, Lent 4, at word-sunday.com: A Catholic Resource for the Lectionary by Larry Broding.

Drama (see listings at individual scripture pages, linked in listings at top of page)
A list of links to other lectionary-based preaching and worship resources.